Beda's Biergarten Oktoberfest
Authentic Traditions with a Modern Twist
Multiple Dates (Sept 18, 19, 25, 26 | Oct 2, 3)
This year, our gathering may be smaller in size, but that doesn't mean it's smaller in fun.
If you've enjoyed our authentic Oktoberfest celebrations in the past, you'll love this year's gathering. Great German beers and food plus fun entertainment combined with an intimate approach. It's a chance to celebrate the true spirit of Oktoberfest — friends and family enjoying time together.
Plus the fun of an open-air Biergarten — as close to the feel of Munich as you can get without a plane ticket! And the music from Brass Mash, one of SLO's hottest bands — streamed on our big-screen TVs from a session recorded just for our Oktoberfest!.
Ticket Details (Limit 8 per order)
$15 RSVP Ticket to reserve your seat
Note: This online fee is nonrefundable. It will be applied to your Oktoberfest dinner tab, which you'll pay after your meal.
Get your RSVP tickets to reserve your spot today
Oktoberfest Sept, 18 (SOLD OUT)
Oktoberfest Sept, 19 (SOLD OUT)
Oktoberfest Sept, 26 (SOLD OUT)
🍺 Dinner Details: 3 Choices
Haxen: $40. | Wurst Platte with 3 sausages: $35 | ½ Roasted Chicken: $30
Vegetarian Option available by request
Each dinner includes:
Pretzel, Sauerkraut, Potato Salad OR Fries OR Spaetzle, Apple Strudel.
🍺 Oktoberfest beers (may change based on availability):
Andechs, Benediktiner, Weltenburger Anna 1050, Weihenstephaner, Hofbrau
All beers priced a la carte.
🍺 Seating Details: Limited capacity seating. Groups: maximum of 8 people per table with consent to sit together. If you have a larger group, call for seating arrangement information.
Smaller parties will be seated with table dividers to provide for separation.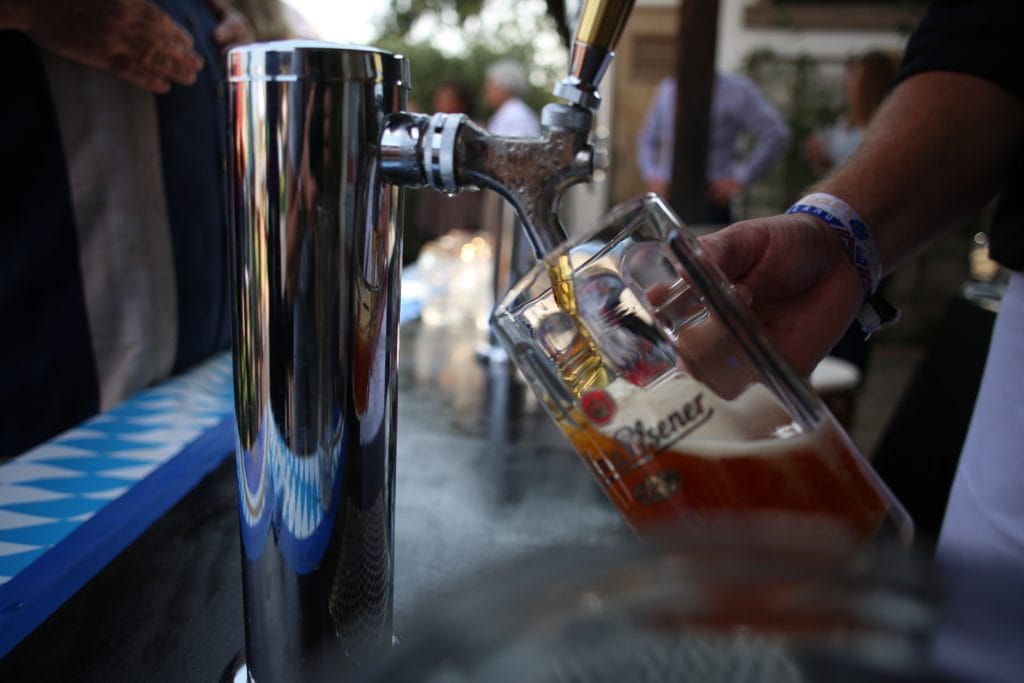 Oktoberfest Events 5:30-Close
RSVP for each Oktobefest event dates. 
The famous Brass Mash! They're taking their energetic live music one better by recording a special Oktoberfest performance just for Beda's Biergarten — complete with new Oktoberfest tunes just for this event. We'll replay the show on our large-screen TVs each night of our Oktoberfest events.