Locavore is
Local FoodLocal PeopleLocal FlavorsLocal CultureYou
Get ready to join Chef Eddie G. as he travels the world to bring you the local foods, drinks, customs, and people who make the Locavore movement possible.
From his earliest days growing up in New York City and cooking alongside his mother, Chef Eddie G. discovered his passion for cooking as a way to explore the diversity of tastes and cultures.
Locavore combines the experience of travel with the world's cuisines and cultures.
Chef Eddie G. created Locavore to share a simple idea: digging into the local abundance of any area and sharing its flavors and people with you. Come along with Chef and get ready to taste the big, wide world.
His passion for all things Locavore has taken Chef to participate in some of the best food and wine events in the world, where he demonstrates the joys of eating and drinking locally. He's seen this world as few others have, with his work on The Great Food Truck Race and others for Food Network, his experience as Chef for NFL Gameday and leading the culinary approach for the Super Bowl's 250,000 attendees, and more.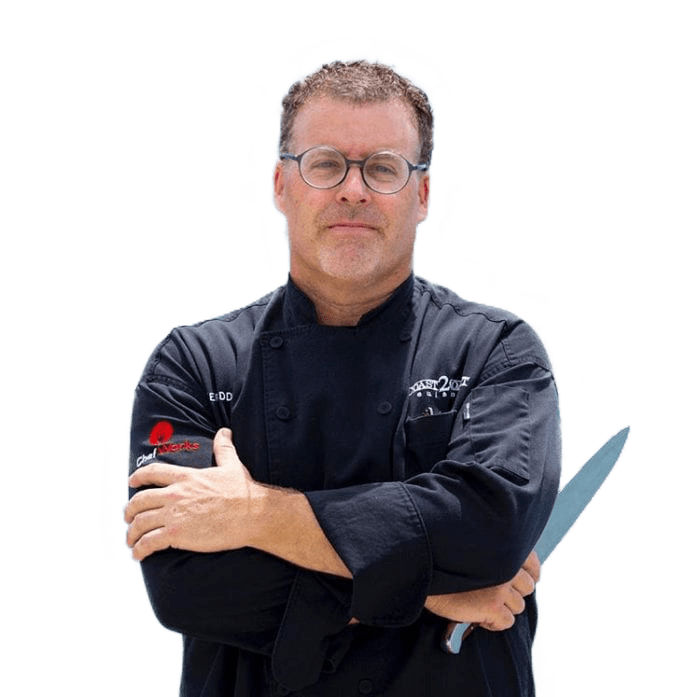 Each of the 10 episodes of the Chef Eddie G. Locavore series brings you the flavor of local foods and introduces you to the people Chef meets along the way. Part travelogue, part gourmet cooking show, Locavore will feed your hunger for exploring the diversity of global food and culture. Dining with the Dead
Guadalajara, Mexico
Up the River - Hudson Valley
Hudson Valley, New York
Releasing Soon.
Check back for upcoming episodes for season 1
Garden Fresh Desert
Las Vega, Nevada
Italy il Mi Amore
Tuscany, Italy
Chef Eddie G. takes a trip to Guadalajara Mexico during Día de Muertos to meet with a local distillery and learn the process of turning agave into tequila while cooking for the locals.
Chef Eddie G. takes a trip to Vegas to shine a light on locally grown and sustainable food options in the desert.
Up the River - Hudson Valley
Up the River - Hudson Valley Chef Eddie G. discovered the Hudson Valley to be overflowing with local flavors, from a farm focused on pasture-raised livestock to craft bread, beer, and spirits makers, and hotels and restaurants that support local and celebrate the area's rich history and deep agricultural roots.
Get ready to explore Tuscany with Chef Eddie G. In Episode 4, you'll sample the Amore of Italy: experience its unique cuisine and wine, savor the sites and culture, and explore the Renaissance art, architecture, and monuments… while meeting interesting people along the way. 
Pour yourself a nice glass of Sangiovese, then sit back and enjoy the trip.
Each month, Locavore News brings you Chef's passion for discovering and sharing the local flavors and cultures from around the world. Plus recipes, tips, and updates on Locavore TV and special events.